We invite you to join an online conversation about artificial intelligence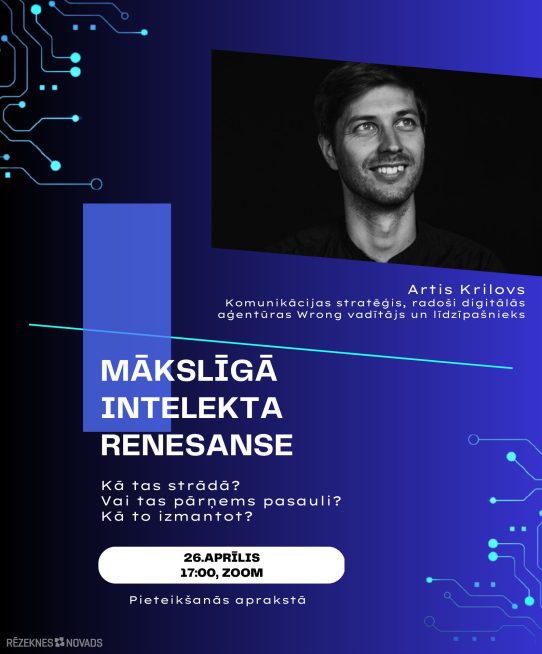 Rēzeknes novada un pilsētas jaunieši, kā arī ikviens, kurš interesējas par mākslīgo intelektu, aicināts piedalīties tiešsaistes sarunā "Mākslīgā intelekta Renesanse", kas notiks šo trešdien, 26. aprīlī, plkst. 17.00 Zoom platform
Sarunu vadīs komunikācijas stratēģis, radoši digitālās aģentūras "Wrong" vadītājs un līdzīpašnieks Artis Krilovs, kurš sniegs īsu ievadu mākslīgā intelekta vēsturē un dalīsies ar teorētiskajiem pamatiem, lai labāk izprastu mākslīgā intelekta darbības principus.
Dalībnieki varēs diskutēt, vai mākslīgais intelekts palīdz mums kļūt efektīvākiem un kā tas var palīdzēt kļūt radošākiem.
Login: https://bit.ly/3mXx14s
Šis būs jau otrais projekta "Man nav vienalga" pasākums, ko rīko biedrība "Viedokļu līderu skola". Projekta mērķis ir mudināt sabiedrību aktīvāk iesaistīties demokrātijas nostiprināšanas procesos, izteikt konstruktīvu viedokli un prast to aizstāvē
Projekts tiek īstenots sadarbībā ar British Council pārstāvniecību Latvijā programmas "People to People Cultural Engagement" ietvaros.
Starp citu, šo ziņu sagatavoja mākslīgais intelekts "ChatGPT". Kā tas ir iespējams? Pieslēdzies sarunai un uzzini vairāk par mākslīgā intelekta iespējām!
Biedrība "Viedokļu līderu skola"