Mobile mathematician will be Maltā on February 25
On February 25, Maltā will be the departure of the mobile mathematician. SIA "Daugavpils Regional Hospital", within the framework of the State paid programme, carries out examinations of the mobile mammograph.
A mobile digital mathematician is a specially equipped bus, the availability of which makes it easier for citizens to receive a high-value mathematical examination in the vicinity of their home.
The following mathematical exams will be offered:
In the framework of the screening of breast cancer in women with special letters of invitation of the National Health Service - the examination shall be performed free of charge.
Diagnostic exam with doctor referral (pay the patient's contribution - EUR 3.00).
Exams are performed without the previous record!
Mobile mathematical location - Children's and youth centre, parka street 20, Malta, Maltas civil parish, Rezekne municipality, 25 February no at 9.00 to 12.00 10.30.
Phone for reference: 26458044
All hygienic and anti-epidemic protective measures will be observed at the time of service provision, and individual protective equipment will be provided to patients.
When you are in the waiting queue for exams, please follow the distance!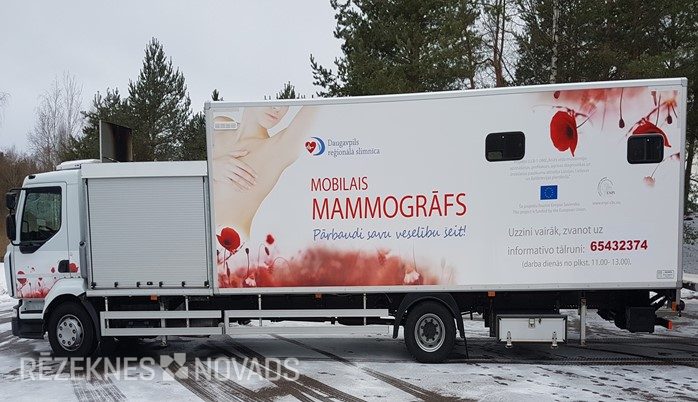 [{"src": "https://rezeknesnovads.lv/wp-content/uploads/2023/01/Mamografija.jpg", "Type": "Image", "opts": {"Text": "", "thumb": "https://rezeknesnovads.lv/wp-content/uploads/2023/01/Mamografija.jpg"}}]