Application for training for adults for the acquisition of digital skills extended to 24 April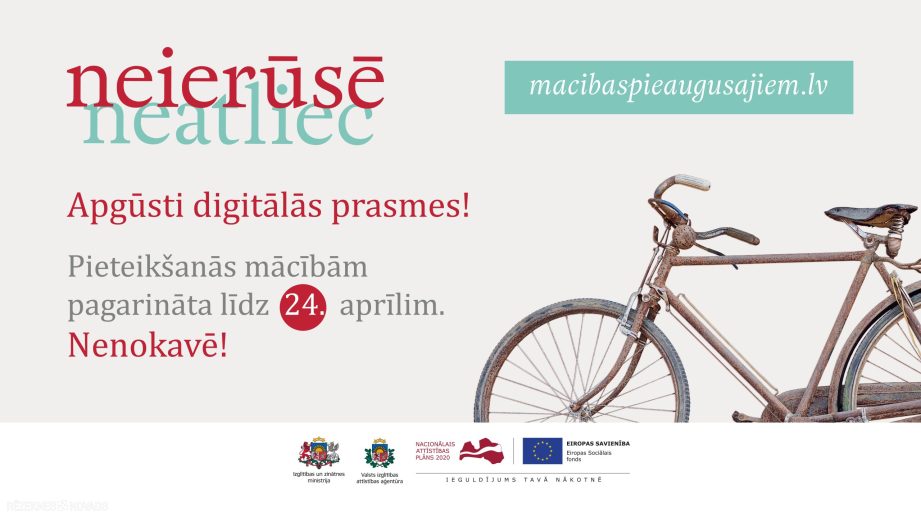 In order to provide the widest possible number of employees with the opportunity to learn different levels of digital skills, the application for the final, 9 th round of the European Union (EU) fund for the development of "professional competence of employed persons" has been extended until 24 April. Workers can choose from one of the 197 educational programmes. Students who wish to acquire digital skills at basic level are invited to apply for training.
In this context, they are specifically invited to apply for those who want to learn the foundations of digital skills. 13 educational programmes, which correspond to the first basic level of digital skills, are designed for people with no knowledge, and within which they can learn skills such as self-use, text processing, presentation and Internet usage. Learning institutions in Riga, Liepaja, Daugavpils, Ventspils, Rēzekne, Jçkabpils, Kraslava, Ludza, Preilos, Bauska, Tukums and Saldou are offered the first basic level.
In turn, employees with pre-knowledge can develop their skills in one of the 26 secondary education programmes of digital skills. The broad range of skills offered contains topics such as e-services, electronic signature and electronic identity, digital communication channels and tools.
To acquire digital skills at basic, average and higher level, the ninth round offers 44 educational institutions throughout Latvia. It is important to pay attention to the place of implementation of educational programmes, as learning for the acquisition of digital basic skills will mainly be carried out in the face of face-to-face. Workers from households with low-income or poor household status will be able to receive support to cover transport costs to get to the school.
Last login card
Acquiring new knowledge and skills with 90 % co-financing from the European Union within the framework of this project will be able to last. When choosing to learn professional development in educational programmes, study modules or study courses, the co-payment of employees shall be 10% from the school fee. For employed persons from poor or low-income households, the training is free of charge.
Similarly to previous carts, in this case, students can also be employed and self-employed at age 25 with completed or uncompleted education, young parents who are on parental leave and have maintained employment relationships as well as retired pensioners.
Each working project can learn two times regardless of the number of login cards, but it should be noted that only one educational programme can be used at the same time. Also, in this last round of admission, each learning participant can apply for only one educational programme. In the case of high number of applications, employees of 45 years of age with low or low level of education receive an advantage.
The 9 th round of the application will last until 24 April. Training groups are planned from 16 May and the training will take place no longer than 31 October. More information on reception conditions, learning and support opportunities as well as the list of educational programmes is available on the website www.macibaspieaugusajiem.lv.
On the project:
Improvement of the "professional competence of employed persons" of THE EU funds project, or Learning for adults the aim is to improve the professional competence of employed persons in order to prevent shortages of labour qualifications in the labour market demand in time, to promote the competitiveness of workers and increase in labour productivity. It is financed by the European Social Fund and the Latvian state, investing more than 45 million euros. The project shall be implemented from the end of 2017 to 2023 by the State Education Development Agency in co-operation with Latvian local governments, educational institutions and the State Agency for Employment.
Chance to learn digital skills Learning for adults part 9 of the project takes place within the framework of the European Year of Skills (#EuropeanYearOfSkills).