Activities of the "Latvian School Finish" activity in Lucia Rananes McKashan High School 2022.2023. m.g. 1 st Semester
Jau vairākus gadus Latvijas skolu skolēniem ir iespēja baudīt dažādus kultūrizglītības pasākumus.
Tā mūsu skolas sākumskolas skolēniem bija iespēja apmeklēt Rēzeknes teātri "Joriks", kur tika prezentēta pirmizrāde "Velveta trusis". Lieliskā izrādē, piedzīvojot Velveta Trusīša pārdzīvojumiem un piedzīvojumiem bagāto, bet traģisko likteni, bērni tika iesaistīti izrādes notikumos, jo arī skatītājiem bija iespēja iesaistīties dažādu problēmu risināšanā.
Lielākais pārsteigums pēc izrādes noskatīšanās bērniem bija iespēja aprunāties ar galvenajiem aktieriem un paust savu viedokli par izrādi. Viņi labprāt dalījās ar saviem iespaidiem par izrādi un uzdeva savus jautājums.
Tuvojoties valsts neatkarības 104. gadadienai, vidusskolēniem bija iespēja noskatīties nu jau starptautiski atzīto un godalgoto Viestura Kairiša spēlfilmu "Janvāris".
Tā ir emocionāli piepildīta, autobiogrāfiska filma par janvāra barikāžu cīņām un politisko situāciju valstī. Kā izsakās filmas līdzautori: "Šis nav tikai stāsts par vēsturi. Tādu mums ir daudz. Filmā ir ļoti precīzi iestrādāti gan personiskās pieredzes kodi, gan atsauces uz kino kultūras vēsturi. Būtība šī ir filma, kas apzināti sevi ieraksta pasaules kino kontekstā." Un šo stāstu skolēni nolasa arī filmas laikā.
7.-9. klašu skolēniem bija iespēja ielūkoties ielu basketbola aizkulisēs. Interviju veidā, dokumentālajos kadros tiek parādīts, kā vienkārši puiši no ielas nonāk līdz Tokijas olimpiskajām spēlēm. Cīņasspars un azarts, kas pavada visu filmas laiku, prieks par uzvaru, atgriešanās mājās ar olimpisko zeltu un jauniegūtā slava parādīja, ka viņi spēj sasniegt ne tikai ieplānotos mērķus, bet spēles gaitā izvirzīt jaunus.
Kā atsauksmēs raksta Raimonds : "Lai uzvarētu, vajag daudz trenēties."
Armands : " Ghetto…bija bīstamā teritorija… mūsdienās tur ir Ghetto Grīziņkalna basketbola laukums, kur notiek gan pasākumi, festivāli, gan strītbola mači," un "Cītīgs darbs atmaksājas".
Tuvojoties Ziemassvētkiem 5.- 6. klases skolēniem bija iespēja noskatīties režisora A. Graubas jaunāko filmu "Circenīša Ziemassvētki". Tā ir sirsnīga filma, kas atklāj Ziemassvētku simbolisko nozīmi - mīlestību un piedošanu, savstarpējo nesaskaņu un konfliktu aizmiršanu. Filmā kā galvenā vērtība tiek parādīta ģimene.
Bērniem komēdija ļoti patika. No viņu atsauksmēm:
Tomass: ''Man patika filmas specefekti - mašīna kokā un ziemeļbriežu pajūgs debesīs."
Marta: "Man amizanti likās otrā plāna varoņi - vectēvs un vecmāmiņa…"
Lūcijas Rancānes Makašānu Amatu vidusskolass skolēni saka lielu paldies par sniegto iespēju piedalīties pašmāju režisoru izrādēs un noskatīties jaunākās latviešu kinofilmas.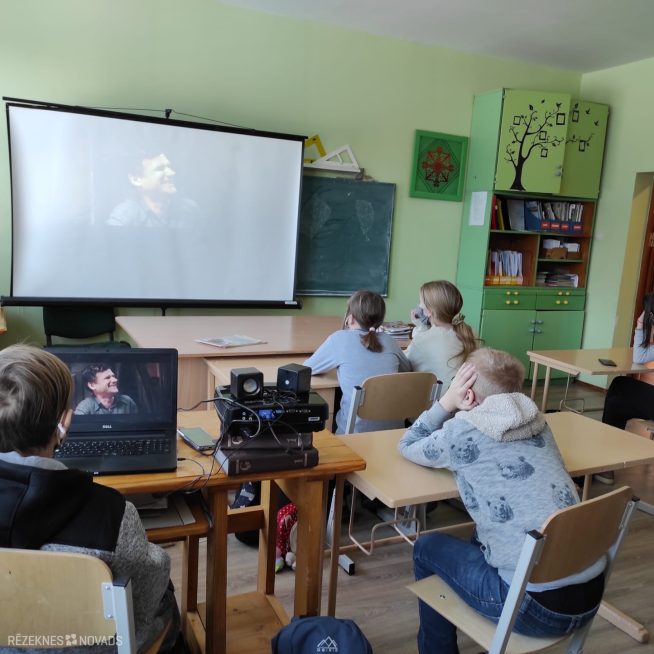 [{"src":"https:\/\/rezeknesnovads.lv\/wp-content\/uploads\/2023\/01\/WhatsApp-Image-2022-11-08-at-12.28.49.jpeg","type":"image","opts":{"text":"","thumb":"https:\/\/rezeknesnovads.lv\/wp-content\/uploads\/2023\/01\/WhatsApp-Image-2022-11-08-at-12.28.49.jpeg"}},{"src":"https:\/\/rezeknesnovads.lv\/wp-content\/uploads\/2023\/01\/WhatsApp-Image-2022-11-08-at-12.28.50.jpeg","type":"image","opts":{"text":"","thumb":"https:\/\/rezeknesnovads.lv\/wp-content\/uploads\/2023\/01\/WhatsApp-Image-2022-11-08-at-12.28.50.jpeg"}},{"src":"https:\/\/rezeknesnovads.lv\/wp-content\/uploads\/2023\/01\/WhatsApp-Image-2023-01-16-at-13.34.43.jpeg","type":"image","opts":{"text":"","thumb":"https:\/\/rezeknesnovads.lv\/wp-content\/uploads\/2023\/01\/WhatsApp-Image-2023-01-16-at-13.34.43.jpeg"}}]