Beginning of the new knowledge game "eruditis 2023"
25. janvārī Rēzeknes novada pašvaldībā tika uzsākta zināšanu spēles "Erudīts" jaunā sezona. Šajā mācību gadā komandas no Dricānu, Kaunatas, Maltas, Nautrēnu, Viļānu un Austrumlatvijas tehnoloģiju vidusskolas meklēs atbildes uz jautājumiem par un ap UNESCO Pasaules mantojuma sarakstu – kultūra un daba. UNESCO veidotais Pasau-les mantojuma saraksts apkopo pasaulē vēsturiski, mākslinieciski un zinātniski nozīmī-gākās kultūras un dabas mantojuma vietas. Četrās spēļu kārtās skolēni iepazīs Eiropas, Āzijas, Amerikas un Āfrikas valstu UNESCO Pasaules mantojumā iekļautās vietas.
Pirmajā spēlē dalībniekiem nācās atbildēt uz jautājumiem par UNESCO Konvenciju par pasaules kultūras un dabas mantojuma aizsardzību, kā arī par Eiropas un Latvijas kultūras un dabas mantojuma vietām, kas ir iekļautas Pasaules mantojuma sarakstā, arī Latvijas nacionālajā sarakstā.
Erudītiem bija jāzina, ka UNESCO ir specializēta ANO aģentūra, ka Konvencija tika pieņemta Parīzē, ka Šēnbrunnas pils ir slavena ar to, ka tajā mita leģendārā princese Sisija, ka UNESCO Pasaules mantojuma šedevrs – Parīzes Dievmātes katedrāle – ir iemūžināta gan Viktora Igo romānā, gan Zigmāra Liepiņa operā, ka Belovežas gāršā brīvā dabā sastopami Eiropas lielākie dzīvnieki – sumbri. Tāpat konkursa dalībniekiem bija jāatbild uz jautājumiem par Latvijas nacionālajā sarakstā iekļautajām vietām. Viņiem bija jāzina, ka Rundāles pilī interjeros spoguļu ir tik daudz, jo tie vizuāli paplašina telpas, ka skandināvi ir apdzīvojuši Grobiņas arheoloģisko ansambli, ka Sv. Katrīnas luterāņu baznīca ir senākā būve Kuldīgā, ka Slutišķu sādža ir unikāls etnogrāfiskais ciems un tajā dzīvo vecticībnieki. Vēl erudītiem bija jāatpazīst dažādi UNESCO Pasaules mantojuma objekti un jāzina, kur tie atrodas, piemēram, Pizas tornis Itālijā, Versaļas pils Francijā, Milā māja Spānijā.
Apkopojot rezultātus, pirmajā kārtā ar 32 punktiem līderos izvirzījās Dricānu vidusskolas komanda (Krista Kokina, Alise Braze, Raitis Igaunis, Elgars Razgalis, Emīls Kapacis), 2.vietā ar 29,5 punktiem ierindojās Viļānu vidusskolas komanda, savukārt 3.vietā ar 25 punktiem – Nautrēnu vidusskolas komanda. Spriežot pēc rezultātiem, spēle solās būt spraiga.
Konkursa nākamā kārta notiks 22.februārī. Tajā tiks pārbaudītas erudītu zināšanas par UNESCO Pasaules mantojuma sarakstā iekļautajām vietām Āzijā. Jāuzsver, ka aprīlī četru konkursa kārtu kopvērtējumā tiks noskaidrota Rēzeknes novada erudītākā komanda. Labākie saņems dāvanu karti 550 eiro vērtībā, kuru varēs tērēt sev izvēlētam mērķim.
ISP Interešu izglītības speciāliste Anita Rudziša
Photo: youth affairs specialist Aivars Mežatučs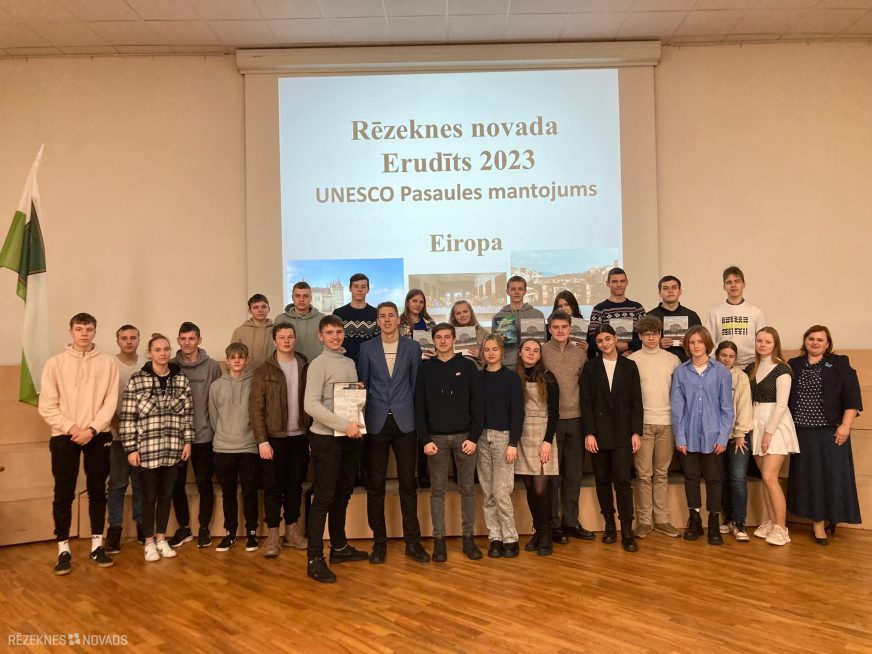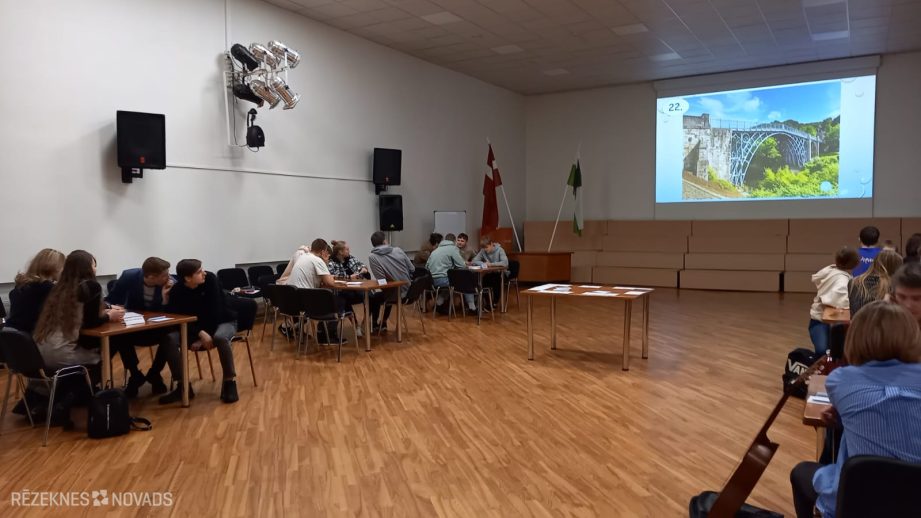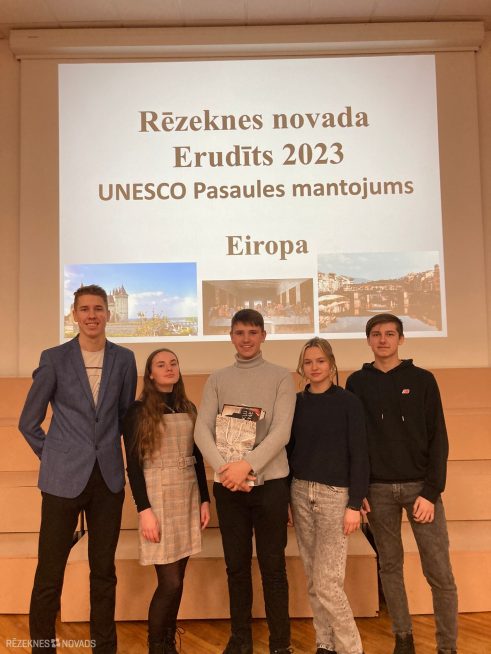 [{"src":"https:\/\/rezeknesnovads.lv\/wp-content\/uploads\/2023\/01\/Visi-dalibnieki.jpeg","type":"image","opts":{"text":"","thumb":"https:\/\/rezeknesnovads.lv\/wp-content\/uploads\/2023\/01\/Visi-dalibnieki.jpeg"}},{"src":"https:\/\/rezeknesnovads.lv\/wp-content\/uploads\/2023\/01\/1.jpeg","type":"image","opts":{"text":"","thumb":"https:\/\/rezeknesnovads.lv\/wp-content\/uploads\/2023\/01\/1.jpeg"}},{"src":"https:\/\/rezeknesnovads.lv\/wp-content\/uploads\/2023\/01\/2.jpeg","type":"image","opts":{"text":"","thumb":"https:\/\/rezeknesnovads.lv\/wp-content\/uploads\/2023\/01\/2.jpeg"}},{"src":"https:\/\/rezeknesnovads.lv\/wp-content\/uploads\/2023\/01\/Dricanu-vidusskolas-komanda.jpeg","type":"image","opts":{"text":"","thumb":"https:\/\/rezeknesnovads.lv\/wp-content\/uploads\/2023\/01\/Dricanu-vidusskolas-komanda.jpeg"}},{"src":"https:\/\/rezeknesnovads.lv\/wp-content\/uploads\/2023\/01\/Dricanu-Vilanu-un-Nautrenu-vidusskolas-komandas.jpeg","type":"image","opts":{"text":"","thumb":"https:\/\/rezeknesnovads.lv\/wp-content\/uploads\/2023\/01\/Dricanu-Vilanu-un-Nautrenu-vidusskolas-komandas.jpeg"}}]