We invite you to visit the Rēzekne District Day 2023
On July 22, a colourful, versatile, family, and warm-hearted day of Rezekne's Day 2023. This year after a long break, the festival will take place in Anchupan Valley - cartodrome. Rezekne municipality will enjoy their people and visitors with a rich festival program for children and adults, active recreational fans, cultural and taste savors.
The day of Rezekne's municipality has become an event that is expected not only by the residents of the municipality but also by the people who live in the neighborhood. Include unprecedented events and activities for different age groups. There will be a concert with loving, popular musicians, and festival fairs, exhibitions. The smaller festival visitors will be able to visit the children's area, where they are expected to be welcomed by the heroes, attractions and creative surprises of the day.
Pirmo reizi svētku laikā norisināsies sarunu pasākums ZIEPES, kas tiek veidota sadarbībā ar kopienu "Latgalactica". Pasākumā ar interesantiem neveiksmju un nepatikšanu stāstiem dalīsies Rēzeknes novada domes priekšsēdētājs Monvīds Švarcs, Nautrēnu apvienības pārvaldes vadītāja Līvija Plavinska, Kaunatas apvienības pārvaldes vadītājs Jānis Aleksāns, Maltas apvienības pārvaldes vadītājs Edgars Blinovs, Viļānu apvienības pārvaldes vadītāja vietnieks Rūdolfs Kroičs.
Traditionally there will be parish divisions that have become an integral part of the festival. At the time of the parish, you can see, hear, and feel how diverse, with imaginary and latgalical creativity, the people of our municipality are rich. A concert of parish artistic collections in "mother villaine thread" will also take place within the framework of the divestment.
Jaunieši dienas garumā varēs izpausties "Zvaigznāja kubs" , kas ir radošā platforma, kur ikkatrs var izmēģināt savu talantu – izmēģināt dažādus instrumentus, brīvo mikrofonu un ielūkoties mūzikas ierakstu studijā.
Novada dienā būs pieejama bērnu zona, kur darbosies "WikiShow" animatori, būs pieejamas piepūšamās atrakcijas, lielie burbuļi un sejiņu apzīmēšana.
Darbosies arī sporta zona dažādām sacensībām, kā arī būs pieejamas meistarklases senioriem.
PASĀKUMA PROGRAMMA
14.30–16.30 pagastu dižošanās un koncerts "Mātes villaines pavedienā"
16.30–18.00 sarunu pasākums ZIEPES
18.00–19.30 svētku koncerts "Manas mājas dzimtā novadā"
19.30–20.00 DJ Deila
20.00–3.00 nakts koncerts un balle
20.00 Rahu The Fool
21.00 Latgalīšu Reps
22.00 Sudden Lights
23.00 Citi Zēni
00.00 A-Eiropa
01.30 Lauku Muzikanti
Informējam, ka būs izmaiņas satiksmes organizācijā pie valsts galvenā autoceļa A12 Jēkabpils - Rēzekne - Ludza - Krievijas robeža (Terehova) un reģionālā autoceļa P36 Rēzeknes – Gulbene posmā no 3,980 km līdz 5,350 km (no rotācijas apļa A12 līdz Rēzeknes valstspilsētas robežai) plānota vienvirziena satiksme. Laika posmā no 2023. gada 22. jūlija plkst. 12.00 līdz 2023. gada 23. jūlijam plkst. 9.00 spēkā būs satiksmes organizācijas shēma. Skatīt pielikumā.
Rēzeknes novada dienas svētkos paredzēta arī tirdzniecība, kur apmeklētāji varēs iegādāties dažādus uzņēmēju labumus.
Svētku ietvaros aicinām Tevi kopā ar draugiem, ģimeni vai arī vienu pašu piedalīties veselības veicināšanas stafetēs "Dzīvo veselīgi Rēzeknes novadā!", kas norisināsies Ančupānu kartodromā, ar mērķi iesaistīt fiziskās aktivitātēs Rēzeknes novada visa vecuma iedzīvotājus.
Pasākuma aktivitātes būs sadalītas divās zonās, kurās ikviens interesents varēs papildināt gan teorētisko zināšanu bāzi, gan atrast sev piemērotāko fizisko aktivitāti starp četrām dažādām stafetēm, lai noskaidrotu ātrākos, izturīgākos un mērķtiecīgos uzvarētājus. Plašāk par stafetēm un laikiem TE.
Plkst. 18.00 notiks ģimeņu godināšana, kā arī tiks pasniegta balva loterijas uzvarētājam. Loterijā ir aicināts piedalīties ikviens, apmeklējot pagastu dižošanās teltis.
Ieeja uz visiem pasākumiem – bez maksas
To meet in festivals, where we will wait for closer and further visitors!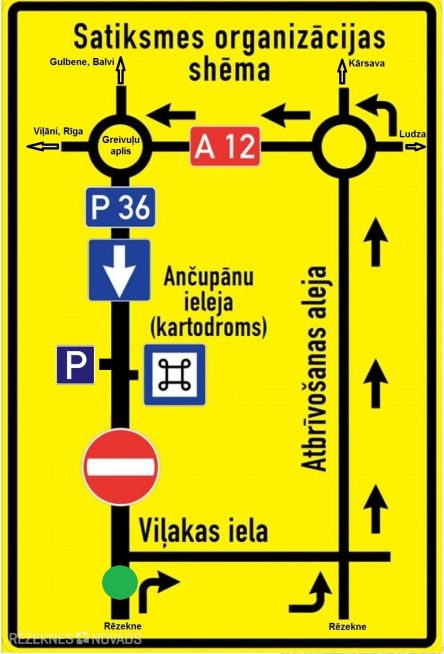 [{"src":"https:\/\/rezeknesnovads.lv\/wp-content\/uploads\/2023\/06\/satiksmes-organizacija.jpg","type":"image","opts":{"text":"","thumb":"https:\/\/rezeknesnovads.lv\/wp-content\/uploads\/2023\/06\/satiksmes-organizacija.jpg"}},{"src":"https:\/\/rezeknesnovads.lv\/wp-content\/uploads\/2023\/06\/3.-Pielikums-Apbrauksanas-shema-1.jpg","type":"image","opts":{"text":"","thumb":"https:\/\/rezeknesnovads.lv\/wp-content\/uploads\/2023\/06\/3.-Pielikums-Apbrauksanas-shema-1.jpg"}}]