Using the option to try packing equipment AT Dricānu secondary school
Kopš 2020. gada, kad Rēzeknes novadā tika īstenots LEADER programmas projekts "Iepakošanas darbnīcas izveide", interesentiem, esošajiem un topošajiem vietējiem uzņēmējiem, kā arī skolēnu mācību procesā ir iespēja izmēģināt produktu iepakošanas un noformēšanas variantus. 9. martā šo iespēju izmantoja Rēzeknes tehnikuma programmas "Pārtikas produktu tehnoloģija" 2. kursa studenti. Studenti paši darbojās ar visām pakošanas un noformēšanas iekārtām, iepakojot savus līdzpaņemtos produktus. Rēzeknes novads aicina arī citus interesentus izmantot iespēju.
12
Termosarukuma iekārta,
Vakuumiepakošanas iekārta,
Maisiņu aizkausēšanas iekārta,
Plēves ruļļa dispansers,
Maisiņu aizdares iekārta,
Vakuuma iekārta,
Follijas maisu aizkausētājs,
Marķētājs,
Svari.
Iepakošanas un noformēšanas iekārtas atrodas Dricānu vidusskolas telpās.
Lai pieteiktu iekārtu izmantošanu, sazināties ar Rēzeknes novada uzņēmējdarbības attīstības specialistēm:
Evitu Igauni, e-pasts: evita.igaune@rezeknesnovads.lv
Liānu Runču, e-pasts: liana.runca@rezeknesnovads.lv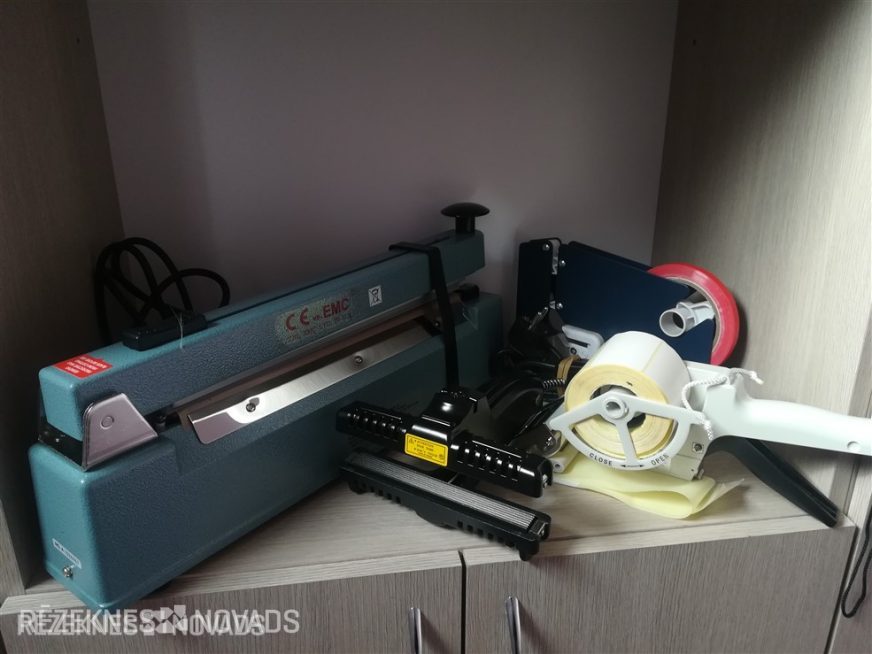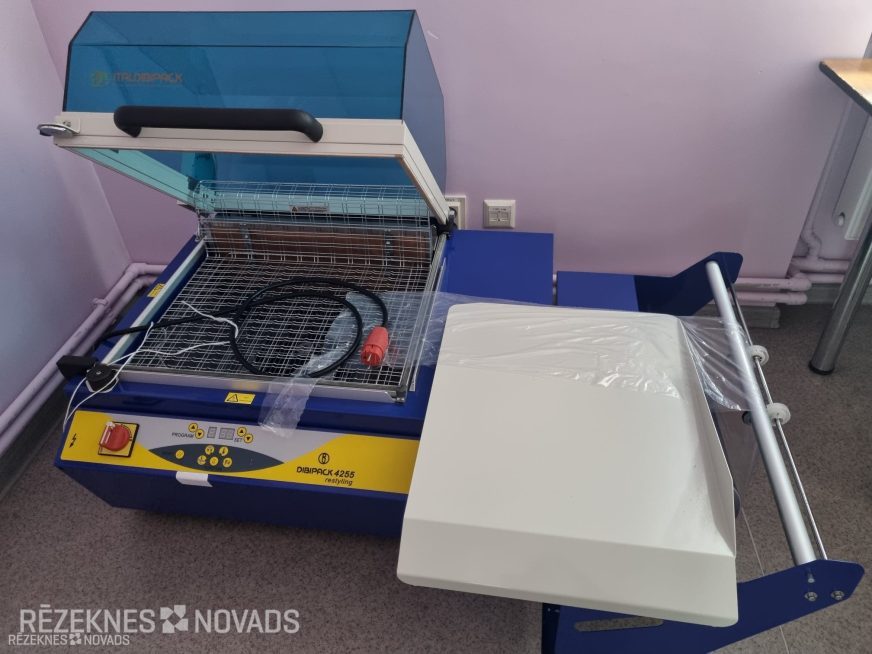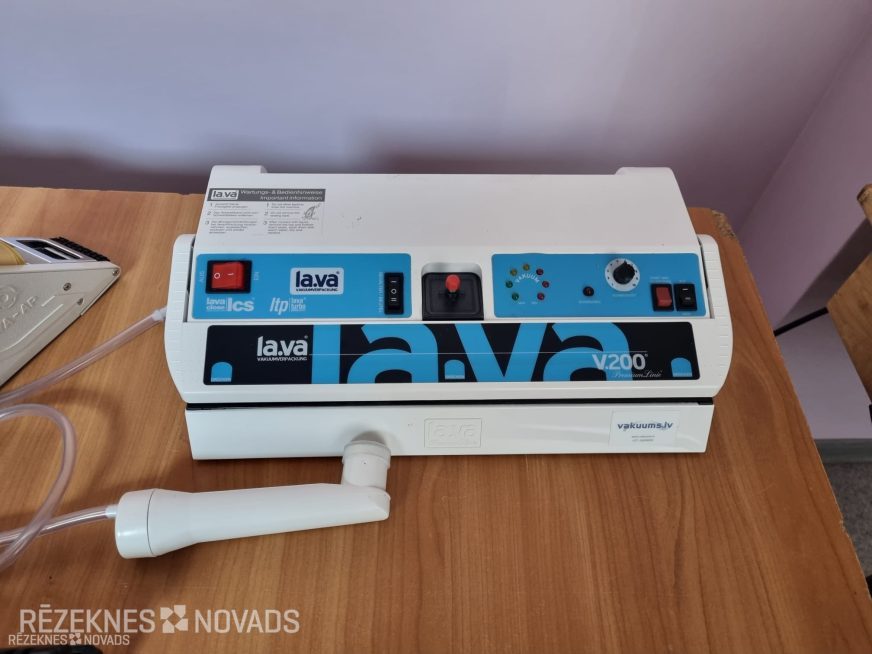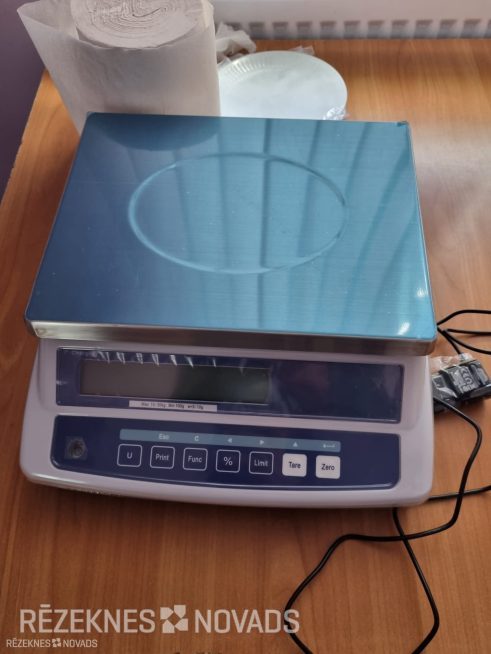 [{"src":"https:\/\/rezeknesnovads.lv\/wp-content\/uploads\/2023\/03\/WhatsApp-attels-2023-03-10-plkst.-10.19.43.jpg","type":"image","opts":{"text":"","thumb":"https:\/\/rezeknesnovads.lv\/wp-content\/uploads\/2023\/03\/WhatsApp-attels-2023-03-10-plkst.-10.19.43.jpg"}},{"src":"https:\/\/rezeknesnovads.lv\/wp-content\/uploads\/2023\/03\/1-1-921x654-1.jpg","type":"image","opts":{"text":"","thumb":"https:\/\/rezeknesnovads.lv\/wp-content\/uploads\/2023\/03\/1-1-921x654-1.jpg"}},{"src":"https:\/\/rezeknesnovads.lv\/wp-content\/uploads\/2023\/03\/WhatsApp-Image-2022-09-06-at-8.39.09-AM-1-921x654-1.jpeg","type":"image","opts":{"text":"","thumb":"https:\/\/rezeknesnovads.lv\/wp-content\/uploads\/2023\/03\/WhatsApp-Image-2022-09-06-at-8.39.09-AM-1-921x654-1.jpeg"}},{"src":"https:\/\/rezeknesnovads.lv\/wp-content\/uploads\/2023\/03\/WhatsApp-Image-2022-09-06-at-8.39.09-AM-921x654-1.jpeg","type":"image","opts":{"text":"","thumb":"https:\/\/rezeknesnovads.lv\/wp-content\/uploads\/2023\/03\/WhatsApp-Image-2022-09-06-at-8.39.09-AM-921x654-1.jpeg"}},{"src":"https:\/\/rezeknesnovads.lv\/wp-content\/uploads\/2023\/03\/WhatsApp-Image-2022-09-06-at-8.39.10-AM-1-921x654-1.jpeg","type":"image","opts":{"text":"","thumb":"https:\/\/rezeknesnovads.lv\/wp-content\/uploads\/2023\/03\/WhatsApp-Image-2022-09-06-at-8.39.10-AM-1-921x654-1.jpeg"}},{"src":"https:\/\/rezeknesnovads.lv\/wp-content\/uploads\/2023\/03\/WhatsApp-Image-2022-09-06-at-8.39.10-AM-2-921x654-1.jpeg","type":"image","opts":{"text":"","thumb":"https:\/\/rezeknesnovads.lv\/wp-content\/uploads\/2023\/03\/WhatsApp-Image-2022-09-06-at-8.39.10-AM-2-921x654-1.jpeg"}},{"src":"https:\/\/rezeknesnovads.lv\/wp-content\/uploads\/2023\/03\/WhatsApp-Image-2022-09-06-at-8.39.10-AM-3-921x654-1.jpeg","type":"image","opts":{"text":"","thumb":"https:\/\/rezeknesnovads.lv\/wp-content\/uploads\/2023\/03\/WhatsApp-Image-2022-09-06-at-8.39.10-AM-3-921x654-1.jpeg"}},{"src":"https:\/\/rezeknesnovads.lv\/wp-content\/uploads\/2023\/03\/WhatsApp-Image-2022-09-06-at-8.39.10-AM-5-921x654-1.jpeg","type":"image","opts":{"text":"","thumb":"https:\/\/rezeknesnovads.lv\/wp-content\/uploads\/2023\/03\/WhatsApp-Image-2022-09-06-at-8.39.10-AM-5-921x654-1.jpeg"}}]