In the week of his career, young people will be invited to know THE ICT sector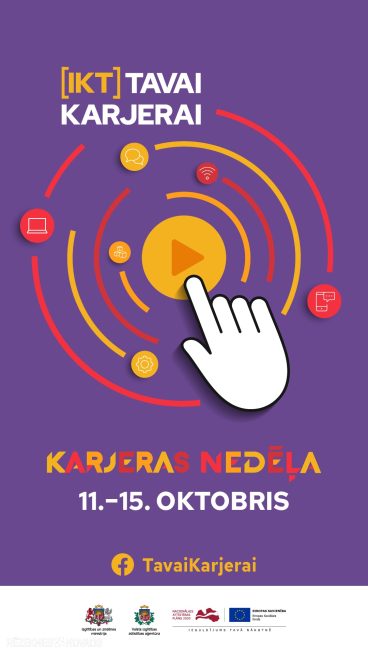 From 11 to 15 October, a career week will be held throughout Latvia, which is organised by the National Education Development Agency (VIAA) in cooperation with partners in regions. This year, a career week with the slogan "ICT for your careers" is dedicated to the awareness of the information and communication technologies (ICT) industry, aware of their actuality and the use of applications in the community, knowing the wide spectrum OF ICT professions, revealing the skills they need and listening to the stories of inspiring industry, as well as by testing their efforts in the hackon of young people.  
"In the past 10 years, the number of employees in Latvia HAS grown more than twice in ICT companies, and today ICT skills are needed in every modern working company. ICT professionals are responsible for the development of innovation and new products, data protection and security, the creation and maintenance of systems, digital design, computer graphics, website development and administration, the Internet of things and many other directions," stresses: Director of THE VIAA Education Support and International Cooperation Department Didzis Povaluers.  
As in previous years, this year's career week with the slogan "ICT for your career" will take place together with organisers of the event in both general and vocational education institutions.and, as every year, educational institutions will organise research-related awareness-raising activities - discussions, thematic learning hours, creative workshops, meetings with representatives of companies and universities, school graduates, pupils' parents and industry representatives. 
The events of the event and the programme are invited to follow the website viaa.gov.lv/lv/karjeras-nedelaas well as on social networks facebook.com/TavaiKarjerai and Twitter/Tahor.  
About a career week
A career week is a cycle of events, during which young people have the opportunity to explore possible future activities, to listen to representatives of different professions and to receive career advice. In addition to central events throughout Latvia, various other activities related to the choice of professions will also be held during the course of his career in general and vocational education institutions. This year's career week is dedicated to the introduction of information and communication technologies (ICT). In view of the epidemiological situation in the country, most of the measures will be online, while part of the measures within a single class or one team will take place on the spot, taking into account the recommendations of the epidemiologists and the instructions of the responsible authorities. 
In the course of his career, VIAA implements "career support in general and vocational education institutions" under the European Social Fund and State funding. 
Additional information: 
Lelde Bukovsky
Career Week 2021
Public relations specialist
Tel.: 28247515
e-mail: lelde.bukovska@ka.lv  
Alice Sergee
VIAA communication and programme publicity departments
senior Information Officer
Phone: 67785462
e-mail: alise.serge@viaa.gov.lv