Calls for the company's annual prize "business pride 2023"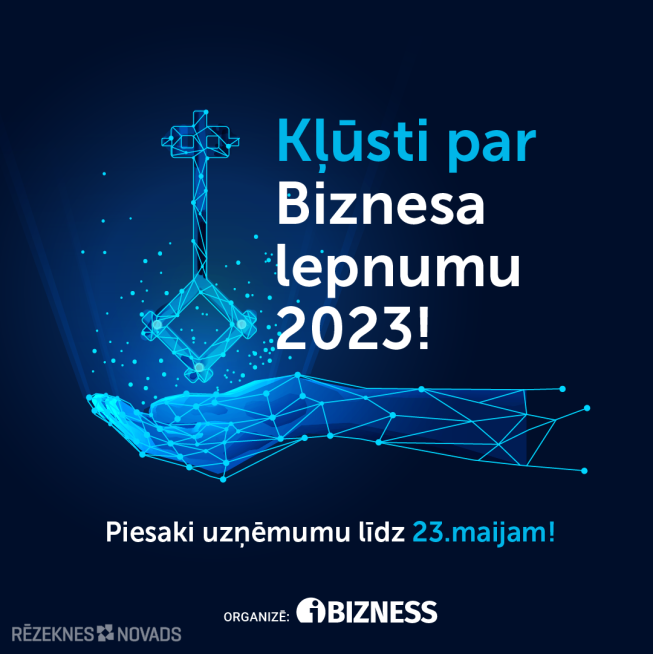 Katram uzņēmumam ir sava veiksmes atslēga – vienam tās ir inovatīvas idejas, citam gluži pretēji – pragmātisks darbs, vēl citam – spēja izmantot situāciju. Bet, iespējams, lai veiksmīgi strādātu un attīstītu uzņēmumu, ir noderīgi apvienot visas šīs prasmes.
"Biznesa lepnums 2023" atgriežas 2023. gada 20. jūnijā, lai izceltu labākos, veiksmīgākos un inovatīvākos mazos uzņēmumus Latvijā!
Vai Jūsu uzņēmums ir ieviesis inovatīvu produktu vai adaptējis jaunajiem apstākļiem kādu esošo? Esat īstenojuši oriģinālu produkta virzības stratēģiju? Esat veiksmīgi apguvuši jaunus tirgus Latvijā un/vai ārpus tās? Vai Jūsu uzņēmums veiksmīgi realizējis uzņēmuma digitalizācijas procesus? Bet varbūt jūsu vērtību un attīstības pamatā ir ilgtspējīga uzņēmējdarbība – rūpes par sociālajām vērtībām un vidi? Tad varbūt tieši Jūsu uzņēmums ir pelnījis kļūt par BIZNESA LEPNUMU 2023 un pastāstīt par sevi visai Latvijai!
Kas var pieteikties?
Uz gada balvu "Biznesa lepnums 2023" var pretendēt jebkurš uzņēmums, kurš lepojas ar saviem panākumiem un atbilst šiem kritērijiem:
2022.gadā uzņēmuma apgrozījums nepārsniedz 10 milj. eiro;
2022.gadā uzņēmums ir strādājis ar peļņu;
uzņēmums veiksmīgi turpina strādāt arī 2023.gadā;
beidzamos 2 gadus (2022./2021. un 2021./2020.) uzņēmums uzrādījis apgrozījuma pieaugumu;
uzņēmumam nav nodokļu parādu.
Uzņēmumu balvai izvirzīt var:
pats uzņēmums – tā īpašnieks/darbinieki;
sadarbības partneri;
klienti.
Kur un kā pieteikties?
Izvirzīt uzņēmumu balvai "Biznesa lepnums 2023" var līdz 23.05.2023. (ieskaitot). Pretendentiem jāiesniedz aizpildīta form of application, sūtot pieteikumu uz e-pastu info@izurnali.lv.
Lai pārbaudītu, vai uzņēmumi atbilst izvirzītajiem kritērijiem, par sadarbības partneri tiek aicināts "Lursoft". Uzņēmumiem, kuriem uz pieteikuma iesniegšanas brīdi nebūs iesniegts gada pārskats par 2022.gadu Uzņēmumu reģistrā, kopā ar pieteikumu jāiesniedz uzņēmuma vadības apstiprināts gada pārskats.
Kāpēc piedalīties?
Šī ir iespēja pastāstīt par sevi, iegūt atzinību un atpazīstamību gan savā reģionā, gan arī visā Latvijā. Uzvarētāji katrā no minētajām grupām savā īpašumā jau tradicionāli iegūs galveno balvu "Veiksmes atslēgu" (idejas autors: mākslinieks Aivars Kerliņš).
Tāpat konkursa finālistiem tiks pasniegtas organizatoru un sadarbības partneru sarūpētas dāvanas, kā arī pasākuma lieldrauga speciālbalva. Arī pasākuma dalībniekiem būs iespēja balsot par savu simpātiju (balstoties uz finālistu sniegtajām prezentācijām).
Vērtēšana un uzvarētāja noteikšana
Uzvarētājs tiks noteikts, apkopojot uzņēmuma finanšu rādītājus un žūrijas vērtējumu.
Uzņēmumi tiks vērtēti un balvas pasniegtas 3 kategorijās:
1.kategorija – Mikrouzņēmums (apgrozījums 2022.gadā nepārsniedz 100 000 eiro);
2.kategorija – Pirmais miljons (apgrozījums 2022.gadā nepārsniedz 1 000 000 eiro);
3.kategorija – Mazais uzņēmums (apgrozījums 2022.gadā nepārsniedz 10 000 000 eiro).
Apbalvošanas ceremonija
Noslēguma pasākums un svinīgā apbalvošanas ceremonija notiks 20.06.2023 klātienē.
Pasākums plānots 2 daļās:
1.daļa – forums, kurā pārrunāsim tieši mazajiem uzņēmējiem aktuālus jautājumus (nodokļi, digitalizācija, finanses, izaicinājumi un risinājumi);
2.daļa – gada balvas "BIZNESA LEPNUMS 2023" pasniegšanas ceremonija.
Apbalvošanas ceremonija tiks organizēta svinīgā gaisotnē, piedaloties visiem konkursa dalībniekiem un īpaši aicinātiem viesiem. 3 finālisti katrā kategorijā sniegs nelielu (5 min) prezentāciju; pēc katras kategorijas prezentāciju sniegšanas tiks paziņots balvas saņēmējs.
Lai lejupielādētu pieteikuma formu, spiediet here.