Up to 3 May may apply for training for adults for the acquisition of digital skills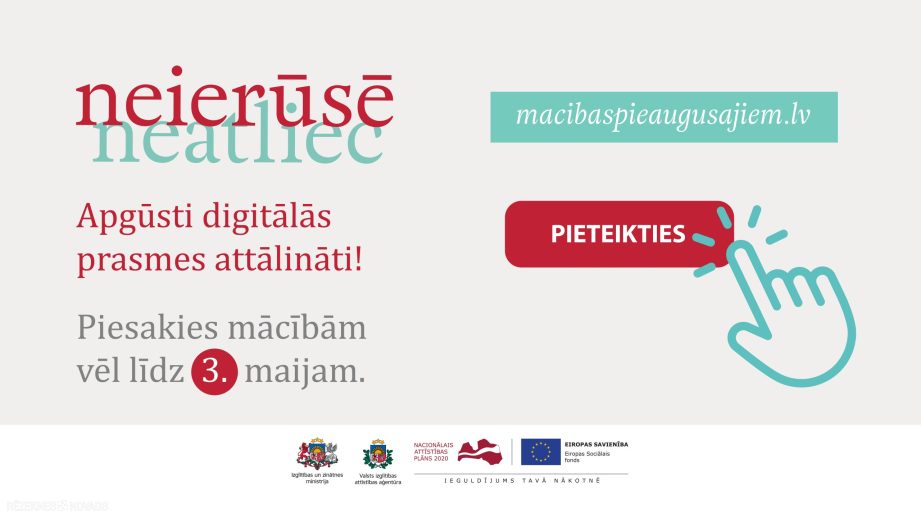 Ņemot vērā plānotās izmaiņas Ministru kabineta noteikumos, kas nosaka attālināto mācību organizēšanas kārtību, pieteikšanās mācībām Eiropas Savienības (ES) fondu pieaugušo izglītības projekta "Nodarbināto personu profesionālās kompetences pilnveide" 9. kārtā ir pagarināta līdz 3. maijam. Plānotās izmaiņas paredz iespēju īstenot izglītības programmu lielāko daļu attālināti, šādi sniedzot plašākas iespējas nodarbinātajiem no visas Latvijas apgūt vai pilnveidot savas digitālās prasmes.
Plānotie grozījumi Ministru kabineta noteikumos, kas nosaka attālināto mācību organizēšanas un īstenošanas kārtību, ļaus izglītības iestādēm īstenot 9. kārtā piedāvātās izglītības programmas arī attālināti. Izņēmums ir izglītības programmas ar DigComp apguves pamata līmeni 1, kur attālināti var īstenot ne vairāk kā 30% no izglītības programmas stundu skaita.
Mācību process pielāgots darbam
Projekta pēdējā pieteikšanās kārtā 197 izglītības programmās var apgūt digitālās prasmes no pamata līdz augstākam līmenim, izvēloties mācīties kādā no profesionālās pilnveides izglītības programmām, studiju moduļiem vai studiju kursiem. Izglītības programmām ir atšķirīgs mācību ilgums, tomēr mācību process tiek organizēts tādā veidā, lai sniegtu nodarbinātajiem iespēju pielāgoties darbam, mācoties darba dienu vakaros, brīvdienās vai jauktā veidā.
Pēc profesionālās pilnveides izglītības programmas sekmīgas apgūšanas mācību dalībnieki saņem valsts atzītu apliecību par profesionālās pilnveides izglītības programmas apguvi, savukārt studiju moduļa vai studiju kursa noslēgumā nodarbinātie saņem apliecību, kurā norādīts studiju kursa vai studiju moduļa apjoms kredītpunktos.
Each working project can learn two times regardless of the number of login cards, but it should be noted that only one educational programme can be used at the same time. Also, in this last round of admission, each learning participant can apply for only one educational programme. In the case of high number of applications, employees of 45 years of age with low or low level of education receive an advantage.
Atzinīgi novērtē iegūtās zināšanas
Mācībās pieaugušajiem iegūtās zināšanas augstu novērtē iepriekšējo kārtu mācību dalībnieki. Tā Kaspars Kalniņš, elektriķis pēc izglītības, izmantoja iespēju mācīties projektā divas reizes. Otrajā reizē Kaspars apguva izglītības programmu "Datu bāzes (projektēšana, vadība, datu atlase SQL)". "Rezultātā ieguvu daudz vairāk, nekā gaidīju," atzīst Kaspars. Iegūtās zināšanas palīdzēja Kasparam virzīties uz priekšu pa karjeras kāpnēm. "Kopš mācību laika esmu nomainījis
dažādus amatus, un katru reizi tie bija arvien augstāki un ar lielāku atalgojumu," piemin vīrietis. Vienlaikus, apgūtā izglītības programma un zināšanu apliecinošs dokuments sniedza arī jaunas iespējas izglītības jomā. "Pateicoties iegūtajiem sertifikātiem ar kredītpunktiem varēju iestāties RTU maģistra studiju programmā "Biznesa informātika", pie tam – budžeta vietā!" atzinīgi vērtē Kaspars.
Strādājošā līdzmaksājums – 10%
Apgūt vai pilnveidot digitālās prasmes projekta ietvaros ir iespējams ar 90 % līdzfinansējumu no ES un valsts, savukārt strādājošā līdzmaksājums ir 10% no mācību maksas. Tā, piemēram, profesionālās pilnveides izglītības programmās līdzmaksājuma summa ir sākot no 44,00 eiro, studiju kursos sākot no 18,00 eiro un studiju moduļos – no 72,00 eiro. Svarīgi, ka nodarbinātām personām no trūcīgām vai maznodrošinātām mājsaimniecībām mācības ir bez maksas.
Pieteikties mācībām var strādājoši un pašnodarbināti iedzīvotāji vecumā no 25 gadiem ar pabeigtu vai nepabeigtu izglītību, jaunie vecāki, kas atrodas bērna kopšanas atvaļinājumā un ir saglabājuši darba attiecības, kā arī strādājošie pensionāri.
Pieteikties kādai no 197 izglītības programmām var līdz 3. maijam. Mācību grupu komplektēšana plānota no 17. maija, un mācības notiks ne ilgāk kā līdz 31. oktobrim. Plašāka informācija par uzņemšanas nosacījumiem, mācību un atbalsta iespējām, kā arī izglītības programmu saraksts ir pieejams mājaslapā www.macibaspieaugusajiem.lv.
On the project:
Improvement of the "professional competence of employed persons" of THE EU funds project, or Learning for adults the aim is to improve the professional competence of employed persons in order to prevent shortages of labour qualifications in the labour market demand in time, to promote the competitiveness of workers and increase in labour productivity. It is financed by the European Social Fund and the Latvian state, investing more than 45 million euros. The project shall be implemented from the end of 2017 to 2023 by the State Education Development Agency in co-operation with Latvian local governments, educational institutions and the State Agency for Employment.
Chance to learn digital skills Learning for adults part 9 of the project takes place within the framework of the European Year of Skills (#EuropeanYearOfSkills).