Plogging "running green in Rēzekne municipality – 2023"
Promotional participants are invited to try for the fourth consecutive year plogging - environmentally friendly running with waste collection during running. Running or fast walking is valuable to health, waste collection is valuable to our environment as most people want to live in an orderly, clean environment. Therefore from 6 April 2023 to 22 April 2023. Rezekne leads young people to participate in environmental promotion,Running green in Rēzekne District ''.
You don't need much – running shoes, garbage bags, and gloves. A member of the stock selects a route himself, runs or goes out by lifting the waste that is on the way. After "plogging", your performance (information about yourself, photo) should be published in social networks with dytags (hashtag) #Rezeknesnovodaisonatne, #Alaas, #ploging and sent to e-mails: aivars.mezatucs@rezeknesnovads.lv and editecep@inbox.lv.
In the stock to participate in any Rēzekne municipality individually or create a team with your family, friends, class members, etc. In the drawing order three members of the stock will receive amazement awards from the municipality of Rezekne, the educational and sports administration of the municipality, but three shares of the stock are prizes from SIA "ALAAS".
PROMOTIONAL PARTICIPANTS HAVE AN OPPORTUNITY TO WIN A SUPPLEMENTARY AWARD - ALAA MEDIA TABLE GAME! Member (s) must be sent 5 real ideas "how to reduce waste disposal in the natural environment of Latvia" to e-mail: aivars.mezatucs@rezeknesnovads.lv and editecep@inbox.lv. The authors of the sent ideas will participate in the explosion of THE ALAA environmental table game, the waste degradation time ''.
"GET GREEN," RĒZEKNE SAYS HIMSELF, TAKE YOUR FRIENDS WITH YOU.
Full akcijas by-laws or www.alaas.lv.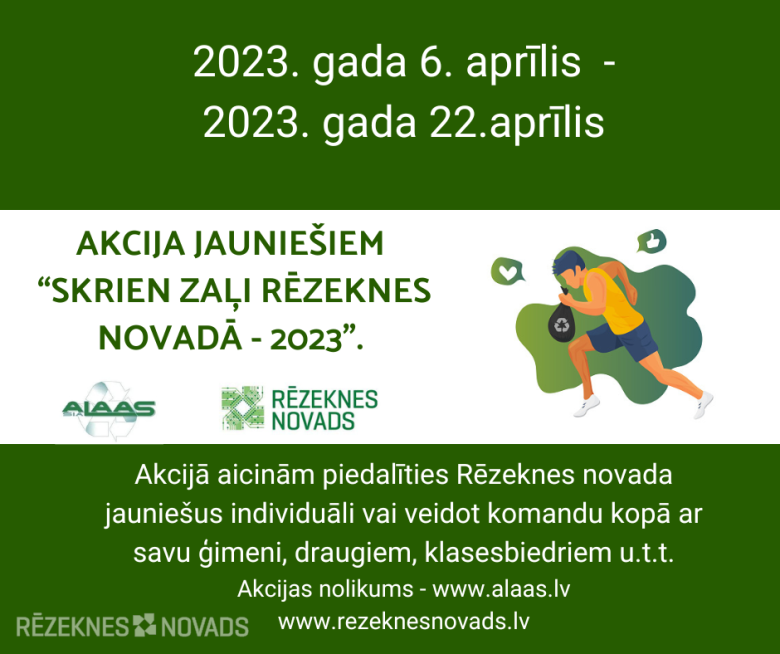 [{"src": "https://rezeknesnovads.lv/wp-content/uploads/2023/04/Afisa_plogings2023.png", "Type": "Image", "opts": {"Text": "", "thumb": "https://rezeknesnovads.lv/wp-content/uploads/2023/04/Afisa_plogings2023.png"}}]