Business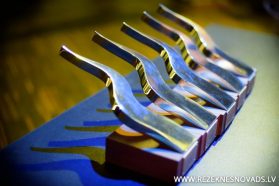 Latgale Agricultural Science Centre 
LLZC is a scientific institution that conducts scientific research, experiments on arable crops, provides advice. THE main objective OF LLZC is the research of agricultural opportunities in Latgale region and the search for best solutions. Main project directions: evaluation of cereal-growing technologies and fibre and oil flax in Latvia in Eastern Latvia; research/preservation of the collection of flax and hemp genetic resources.
Every year SIA "Latgale Agricultural Science Centre", in collaboration with the municipality of Rezekne, organises field days, which are highly popular among Latvian farms and agricultural specialists. The "rural day" event is organised since 2000. Every year, the event programme is being developed as the range of projects is also changing. 
Animal testing station "LATGALE"
The animal testing station "LATGALE" IN Viļānu has been running for almost 20 years. The basic sector - dairy farming, while growing as an auxiliary sector for livestock farming - produces both coarse fodder and crops themselves. There are around 1780 ha of agricultural land.
In 2019, the farm carried out a LAD project "Establishment of a fodder recycling line" which resulted in a built grain acceptance pit, storage bunkers, scales, as well as a feed processing mini factory.
Cows are harvested twice a day and the milk is transferred to "Food Union" with a duration of approximately 20 years. In 2019, "Latgale" began to produce all known "carton" products.
Since "Latgale" is engaged in livestock farming and is a family of breed, it is also a member of the "Latvian breed breed Union".
A/S "Viļānu selections and test station"
A/S "Viļānu breeding and experimental station", registered in 1991, areas of activity: dairy farming, crop production, beekeeping, electricity generation, trade, provision of agro-service services and biomass production. 2011 The first biogas cogeneration station in Latgale was discovered in Latgale.
Europe is increasingly heading towards the "green course", which significantly changes the philosophy of conventional farming practised so far, affects both land processing and the availability of plant protection products and fertilisation.
Agricultural land is a value that God does not produce more;
the land must be loved, whether it is owned or leased, as it does not give rise to abnormal attitudes;
agriculture is forever because a man can live under the spruce for a while, but he will always have to eat.
LPC "Viļāni"
"Viļāni" is a 100% Latgale milk producer company, co-operative, combines small and medium-sized milk producers. Cooperatives are to be found as early as 1993. The cooperative has become a serious market player and a reliable co-operation partner, both for its members and for closer, further entrepreneurs. The largest value of the cooperative is its loyal members, employees and partners.
Milk is bought from farmers and landlords in the municipality of Rezekne, Preilu and Varakalans. Viļānu cooperatives OF THE milk collected IN 60% for processing to "Preilu cheese" and "white milk" in Lithuania, but the remaining part of the milk collected is processed by themselves and sold with a number of known brands "Bryunails".
Bryunal not a simple animal. She loves nature and Latgale, she is stubborn and proud, but she gives her family the longest and richest milk without regretting anything. She likes to respect him and she can respect him, but only the one who has been able to earn her favor. Similarly, milk products in the "Bryunal" nature's lap have been spilled through small milk chips in the heart of Viļānu. Both cheese and curds and milk, Swastins and kefir are all pleasant and the taste of the tongue is reminded of the flavours that have been twisted with the hands of grandmother and mother since childhood. This is the most important thing for our people.
BUY PRODUCTS MAY:
Every working day: Ornicans, Viļānu parish, communication t .25662454; t .29489812
Rezekne:
Food store, release alley 172a/41
Monsters, Petersmen, Subinaite, Signagla civil parish,
At the store "Maxima X", Colonel Street 26, (Tuesdays, Thursdays and Saturdays) 8.30-13.00)
Jekabpils:
incl. "lat" Sprudzs, builder street 1,
Store "lat", Riga Street 218H,
"Clamp" Stone Street-9
Ludza: Food store, house kitchen, Ludza, Latgales street 133,
As well as:
Store "Gustins", Jaunanna, Jaunannas civil parish, Alūksne
"Liepkalni", "Liepal", Klintaines p., Pļavinu n.
Green lamp, crossing street 1a, thumb
Store "Maxima", Lielvarde, Lāčplēsis street 14, (taste stop)
In separate locations in Riga
Information: https://www.lpksvilani.lv/lv/